All are welcome at this family-friendly event — enjoy panels, purchase books from participating authors and booksellers, listen to live music, and visit booths hosted by St. Louis artisans and literary-focused institutions.
St. Louisans can celebrate literature and literary arts at BookFest St. Louis on Saturday, September 21. Now in its third year, BookFest will host a diverse mix of locally and internationally renowned writers, including two-time National Book Award nominee Elizabeth McCracken, internationally known (and St. Louis' own!) illustrator Mary Engelbreit, beloved children's book author Daniel Wiseman, and acclaimed Bollywood-style romance writer Sonali Dev, among many others!
In between BookFest St. Louis author events, be sure to check out our robust McPherson/Euclid Avenue festival zone, featuring live music, demonstrations, book sellers, local artisans and more!
Open 11 a.m. to 6 p.m. on Saturday, Sept. 21, our festival zone is free and open to the public.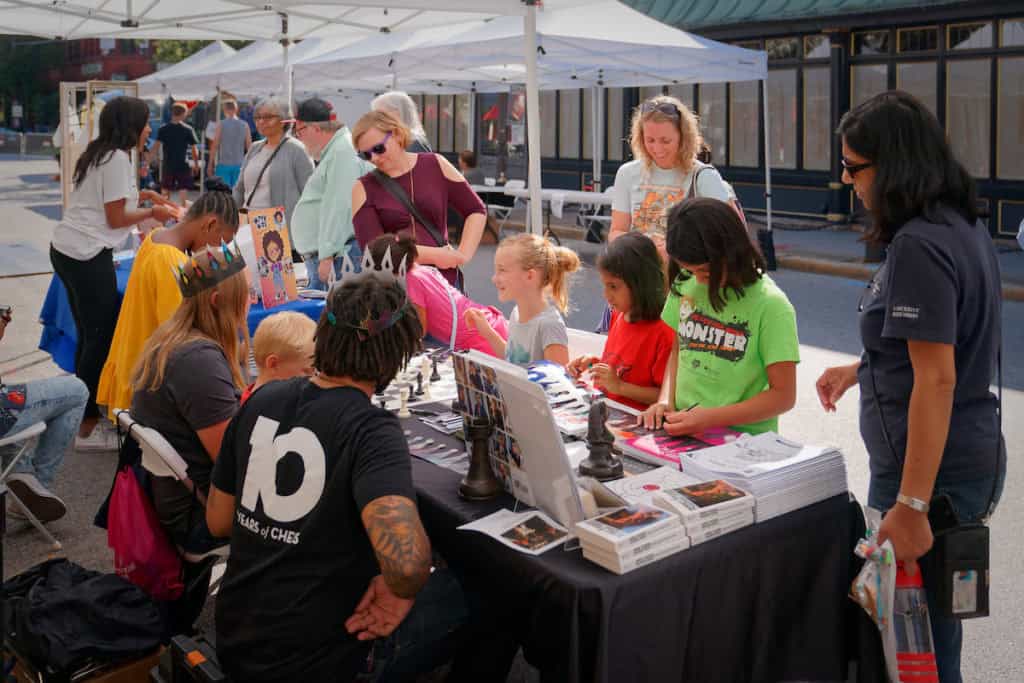 Participating Artists
Geoffrey Parker (Woodblock Prints)
Latonja Flowers (Jewelry)
Jeremy Gagnon (Woodcarving)
Mattt Rulo (3D Painting)
Katie O'Malley (Illustrator)
Tucker Pierce (Sewn Portraits)
Jeff Kapfer (Acrylic Painting)
Colleen Thayer (Notecards)
Alpona Stamboldjiev (Jewelry)
Lauren Tracy (Fiber Art/Clothing)
Isaac Ludwig (Woodworking)
Mike Murphy (Mosaic Glass Artwork)
Participating Vendors
St. Louis State Hospital
Stu Durando
Jim Dwyer
HillTop 30 Publishing House
Click here for more information about exhibitors, activities and food options within the BookFest St. Louis festival zone.