Rediscover your favorite Central West End businesses and take advantage of special deals and discounts with our limited-edition CWE Passport!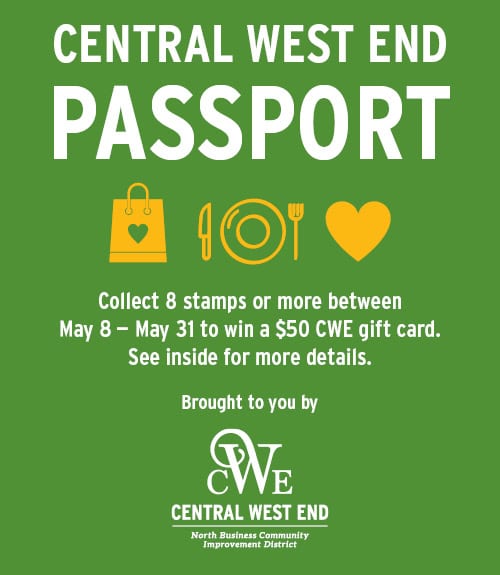 What is the CWE Passport?
The CWE Passport is a pocket-sized booklet filled with deals, discounts, and special offers at more than a dozen participating CWE businesses. With the CWE Passport, you can create your own shopping and dining adventures, support the local businesses you love, and discover new favorites along the way. Adding to the fun: Passport holders who collect 8 stamps or more will be eligible to win a $50 CWE gift card!
To redeem your gift card, please email photos of each stamped page to marketing@cwenorthcid.com or mail your stamped passport to the CWE Business Community Improvement District office, along with your full mailing address.
CWE Business Community Improvement District
449 N Euclid Ave
Suite 130
St. Louis, MO 63108
When can the CWE Passport be used?
Passport offers can be redeemed anytime from May 8, 2021 through May 31, 2021. This allows for flexible shopping and dining over a period of three weeks (giving you plenty of time to collect those stamps)!
How can you get a CWE Passport?
CWE Passports are available for pick-up at any of these participating businesses:
–Cocina Latina
–The Cup
–Duane Reed Gallery
–East • West
–The Eye Bar
–Jeni's Splendid Ice Creams
–Left Bank Books
–Mary Ann's Tea Room
–Paperdolls Boutique Pop-Up Shop
–Paul Mitchell The School St. Louis
–Pi Pizzeria
–PLNK CWE
–Provisions St. Louis
–Q Boutique
–Rush Bowls
–The Silver Lady
–Up-Down STL
You can also download and print your CWE Passport by CLICKING HERE.
How do Passport holders redeem the offers?
Passport offers must be redeemed in-store. Simply show your Passport during checkout. There will be a place for businesses to "stamp" the Passport with a stamp or sticker.
Receive a FREE CWE Tote Bag (With Purchase)!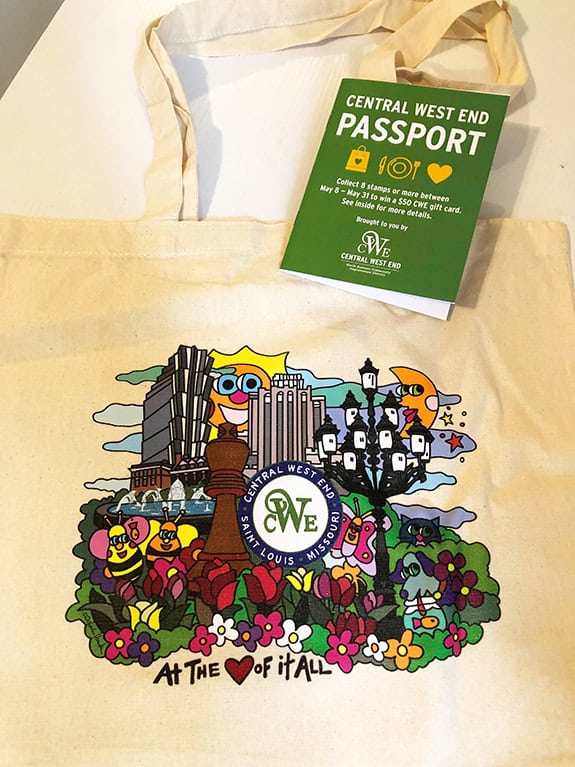 Plus, starting Saturday, May 8 — shop local and get rewarded with a FREE Central West End tote bag (while supplies last)! The Central West End Business Community Improvement District partnered with local gallery owner and artist, Charlie Houska, to create these one-of-a-kind CWE totes. From the Maryland Plaza Fountain to our iconic griffin lamps, this bag will help you show off your love for the CWE all summer long!
Simply visit a NCID retailer or gallery and receive a FREE bag with any purchase (while supplies last; once the bags are gone, they're gone)!