From the return of the Central West End Streatery, to the launch of a limited-edition CWE Passport — here are five things to do this weekend in the Central West End.
Meet Author Charlie Brennan | Straub's
Friday, May 7
4:30-6:30 p.m.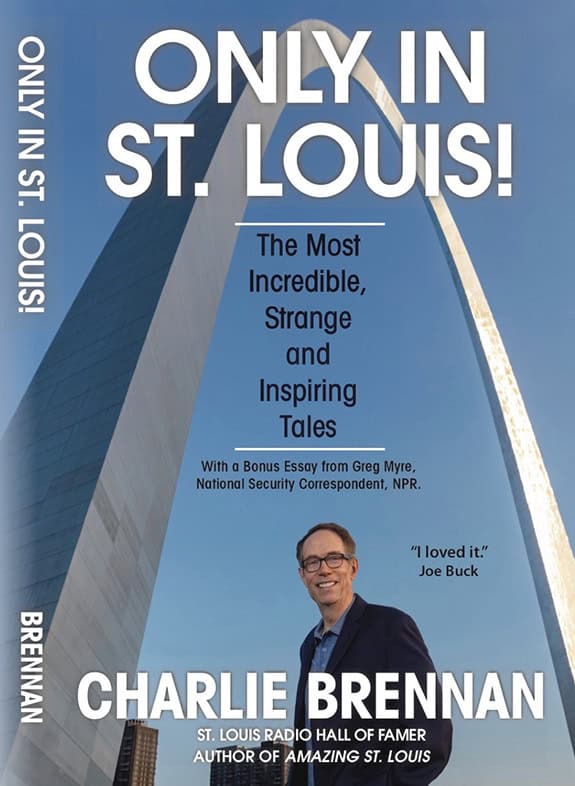 This Friday, head to Straub's from 4:30-6:30 p.m. to meet author Charlie Brennan in-store! He will be signing copies of his new book, Only in St. Louis!, where he shares the most incredible, strange and inspiring stories he has come across in his three decades talking about the Gateway City.
Charlie Brennan, in his 33rd year at KMOX, is host of "The Charlie Brennan Show with Amy Marxkors" Monday through Thursday at 8:30 a.m.  Brennan discusses issues, interviews newsmakers and takes listener calls. Brennan is also "Provocateur" of KETC-TV's "Donnybrook," the highest rated locally-produced talk show on PBS.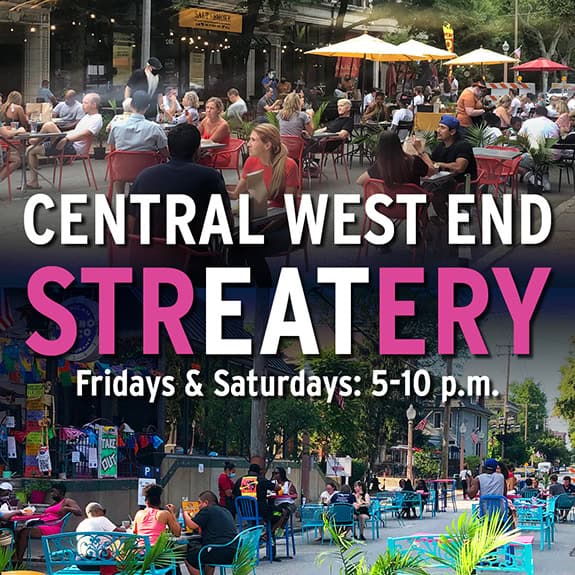 The Central West End Streatery is returning to Euclid Avenue this weekend! Some of your favorite CWE restaurants and bars are expanding their patios into the street to increase operations and provide a safe, socially distanced summer dining experience. Guests are invited to enjoy the Streatery each Friday and Saturday from 5 to 10 p.m. All operations will be carried out in alignment with guidance from the City's public health officials. Social distancing guidelines will be in place and masks are required at all times when social distancing is not possible. There will also be additional hand sanitizing stations at the ends of each dining section for patrons. For more information about the Streatery, click here.
Attend a Special Pop-Up Shop | Bonobos
Saturday, May 8; 11 a.m.-6 p.m.
Sunday, May 9; 12-6 p.m.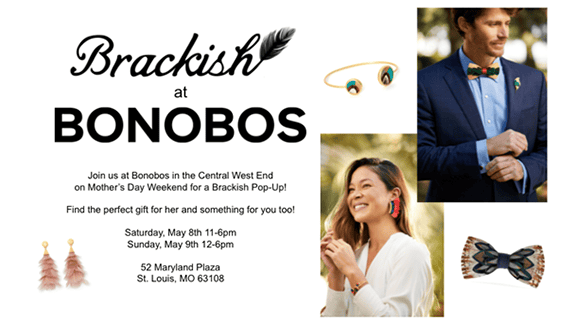 Join Bonobos this Mother's Day Weekend for a special Pop-Up Shop. Brackish, a men's and women's accessories brand based out of Charleston, SC, will be doing a pop-up in their shop. Their men's collection now includes bow ties, pocket squares, plum thicket pins, cummerbunds, and most recently, feather cufflinks. Their women's collection (which launched in September of 2019) includes feather cuff bracelets and feather earrings. Find the perfect gift for mom, and something for you too!
re(DISCOVER) Your Favorite CWE Restaurants & Retailers | Central West End Passport
Launching Saturday, May 8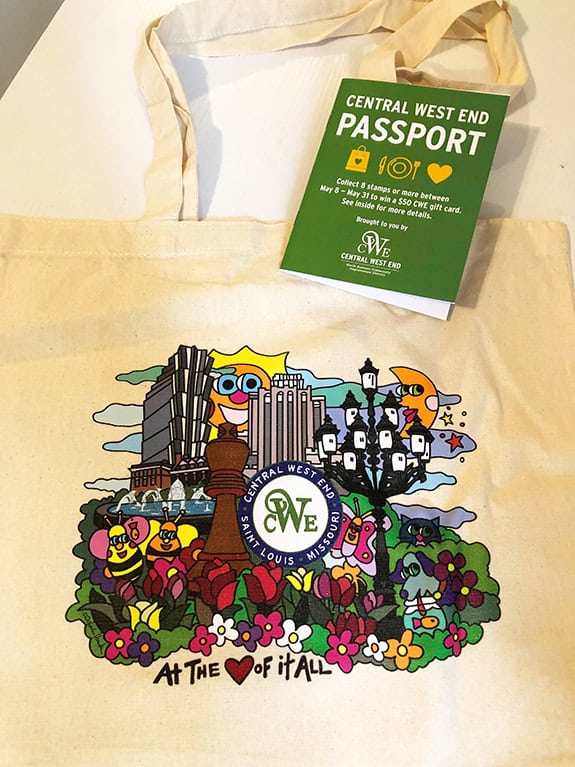 Rediscover your favorite Central West End businesses and take advantage of special deals and discounts with our limited-edition CWE Passport! The CWE Passport is a pocket-sized booklet filled with deals, discounts, and special offers at more than a dozen participating CWE businesses. With the CWE Passport, you can create your own shopping and dining adventures, support the local businesses you love, and discover new favorites along the way. Adding to the fun: Passport holders who collect 8 stamps or more will be eligible to win a $50 CWE gift card! Passport offers can be redeemed anytime from May 8, 2021 through May 31, 2021. This allows for flexible shopping and dining over a period of three weeks (giving you plenty of time to collect those stamps). To learn more about the CWE Passport, click here.
Plus, starting Saturday, May 8 — shop local and get rewarded with a FREE Central West End tote bag (while supplies last)! The Central West End Business Community Improvement District partnered with local gallery owner and artist, Charlie Houska, to create these one-of-a-kind CWE totes. From the Maryland Plaza Fountain to our iconic griffin lamps, this bag will help you show off your love for the CWE all summer long! Simply visit a NCID retailer or gallery and receive a FREE bag with any purchase (while supplies last; once the bags are gone, they're gone)!
Embark on a Scavenger Hunt Through the Neighborhood | CWE Scavenger Hunt
All Weekend Long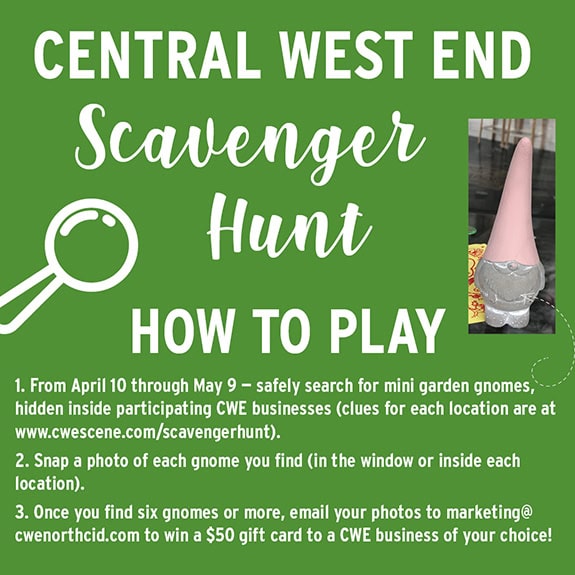 This weekend is your last opportunity to participate in our fun-filled Scavenger Hunt through the CWE! Grab the kids, your significant other, or a friend and see how many gnomes you can find hiding throughout the neighborhood.
How To Play:
Safely search for mini garden gnomes, hidden inside participating CWE businesses (Click here for clues on each location).
Snap a photo of each gnome you find (in the window or inside each location).
Once you find six gnomes or more, email your photos to marketing@cwenorthcid.com to win a $50 gift card to a CWE business of your choice! (Limit one gift card per person).
Happy Hunting!