Since 2016, the Central West End has been home to one of the most unique businesses in the area, a studio where guests can pick out a variety of scents and make their own hand-poured candle.
The Candle Fusion Studio is a popular place for a girls' night, date night, or just a fun afternoon — and we can see why. The inviting aroma as you enter the doors, the friendly hospitality from owners Deanna and Keith, and the one-of-a-kind creative experience are just a few of the reasons why so many are drawn to the studio.
We recently caught up with owner, Deanna McClintock Lester, to learn all about the candle-making process and some of their brand-new scents this spring.
What is the inspiration behind The Candle Fusion Studio?
Deanna McClintock Lester: Our mission is to create memorable joy! We love our ability to provide an extraordinary hands-on experience to the St. Louis community and its visitors. Our studio provides incredible adventure, creativity, and premium fragrance home & body products. Our candles are made of natural soy wax and hand-poured everyday on-site.
Can you walk us through the candle-making experience and what guests can expect at the "candle bar."
Deanna: Guests are welcomed into our extensive candle library which features over 100 different fragrances. Guests are encouraged to take the candle lids off and smell our wide range of scent options — from typical to wildly unusual (such as lavender and wasabi). Individuals write down their favorite fragrances as they explore and then choose which product they'd like to make. We feature dozens of candle jar styles and sizes, plus other home products such as room spray, body mist, spa salts, wax tarts and, pure fragrances oil for mist diffusers. Once a guest selects their product, they sit at the candle bar to select their ultimate 2-4 fragrances to blend together. Our team helps them create their perfect signature scent.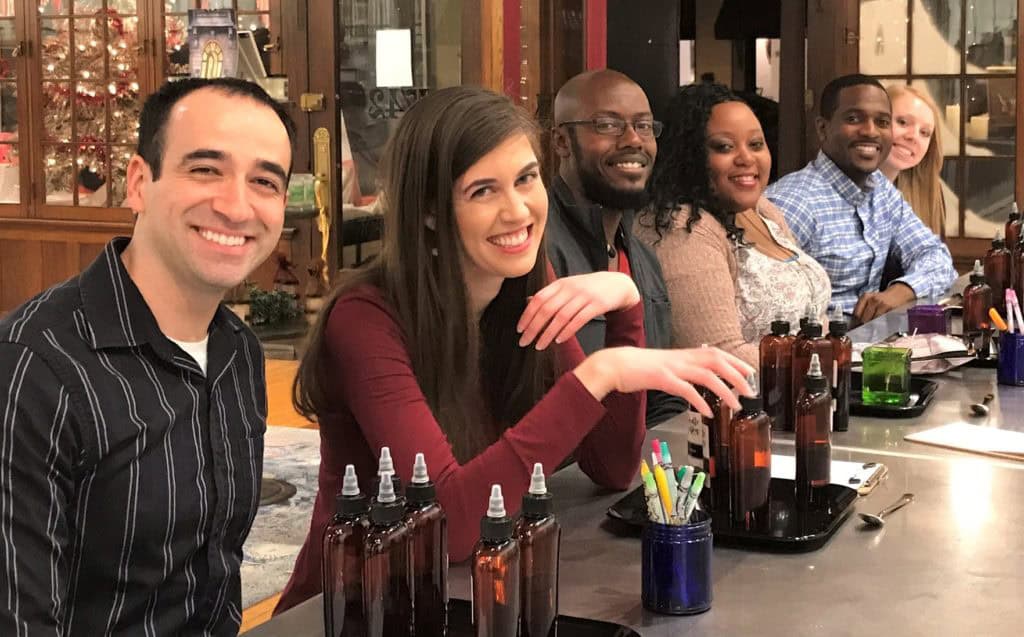 We heard you have some new spring scents! Can you tell us more about them?
Deanna: The Candle Fusion Studio celebrates how fragrance is seasonal and rotates scents consistently. We're delighted to highlight our spring scents very soon, such as cherry blossom, tulip, hydrangea, strawberry jam, and peony. Plus, we're delighted to showcase some new fragrances this season too such as cucumber, agave, thyme and tomato leaf.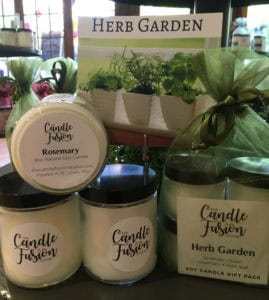 What makes The Candle Fusion Studio unique from other girls' night or date night spots?
Deanna: The studio provides hands-on fun in a fantastic neighborhood! It's truly a unique experience for the senses and everyone takes home something they've created and will love using. Candles and home fragrance products are practical and yet something so special. From date nights to corporate team-building events, our studio provides memorable interactive adventure.
You host many special events throughout the year, and you typically partner with other businesses in the neighborhood. Who are some the businesses you collaborate with?
Deanna: We love hosting a variety of special events with other local business. We recently collaborated with The Vino Gallery for our Galentine's event. Ladies created a custom candle at the studio and then headed across the street for a glass of wine. We've also partnered with The Cup, Jeni's Splendid Ice Creams, Mary Ann's Tea Room, and Handcrafted by Bissinger's.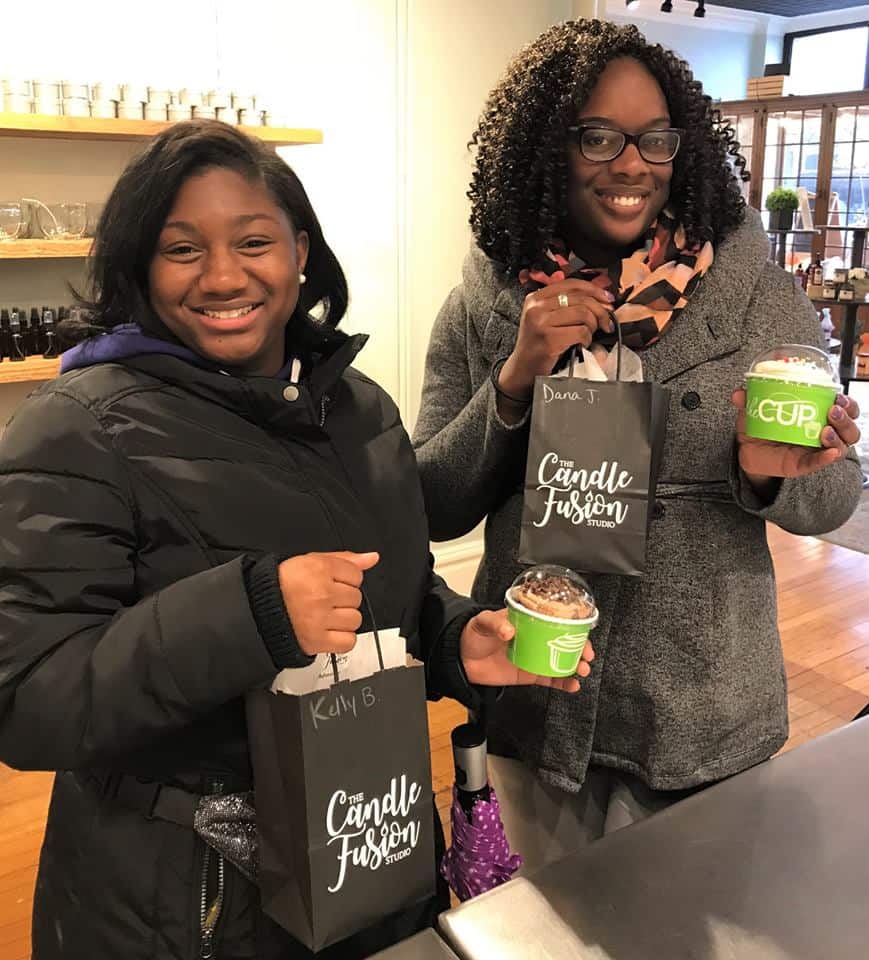 What do you love most about being located in the CWE?
Deanna: We explored many locations throughout St. Louis to open our studio, but were continually drawn to the CWE. It's an eclectic neighborhood of fantastic architecture and history, plus amazing dining, art, and entertainment. Plus, we love being so close to Forest Park, The Hill, Delmar Loop, and Downtown. When we realized our studio location was the first Bissinger's chocolate store, it sealed the deal. For over 80 years, Bissinger's crafted handmade premium chocolates in our space. And now, we are delighted to carry on the same tradition of handmade premium products as well.
You and Keith recently celebrated your 10th wedding anniversary. Congratulations! What's it been like to work with your spouse?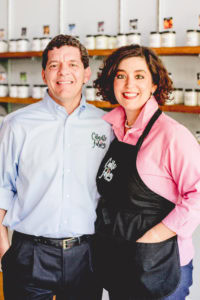 Deanna: The role of a business owner/entrepreneur is both challenging and rewarding. So, it's incredibly special to share this journey with your spouse. We both bring unique skills and talents to the business, plus a varied work history. Keith comes from a background of manufacturing, business operations and sales. I come from a background of hospitality, event planning, sales and marketing. I believe a common struggle among married couples that own a business together is taking time to "turn it off." Meaning, we think and talk about the business all the time. 🙂 It's important that we are intentional about spending time and conversation focused on other important areas of life as well.