From the Legendary CWE Halloween Party, to a special Halloween-themed Celebrity Storytime at Left Bank Books — here are five things to do this weekend in the Central West End!
Friday, October 29
10 a.m.-4 p.m.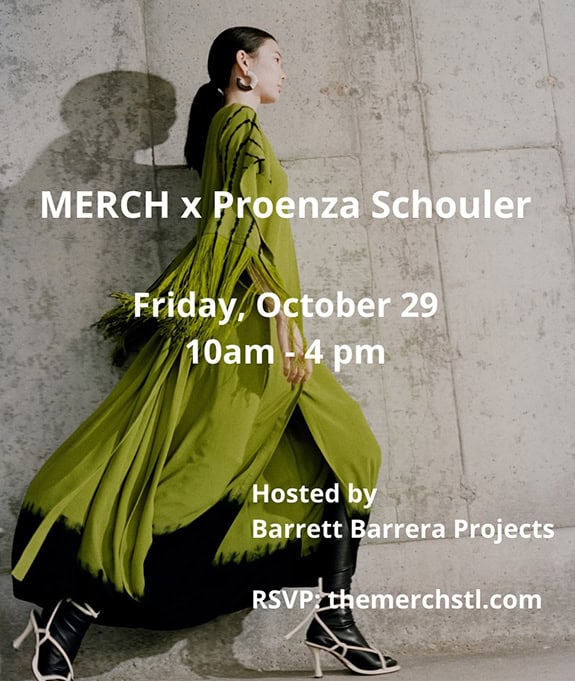 Proenza Schouler is back with a MERCH capsule — and the most fabulous pieces for A/W '21. MERCH brings intriguing global brands in fashion, beauty, and home to those who covet the new, the novel, and the next. Join Special Guest VP of Design Liz Giardina and MERCH Co-Founders Susan Sherman and Tania Beasley-Jolly for the pop-up event of the season, hosted by Barrett Barrera Projects on Friday, Oct. 29 from 10 a.m. to 4 p.m. RSVP is required.
Saturday, October 30
9-10 a.m.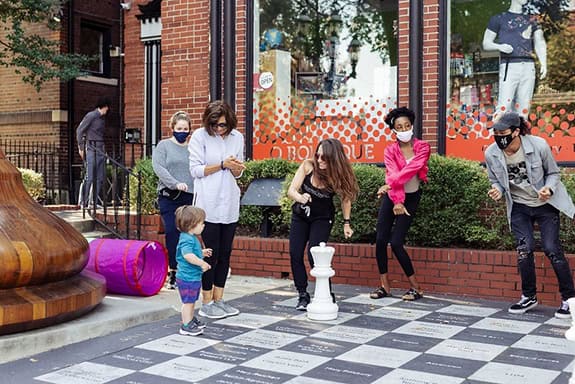 Make some moves with your little ghouls and goblins on the World Chess Hall of Fame's outdoor chess patio with Consuming Kinetics Dance Company (CKDC)! CKDC's Arica Brown will lead a class that explores chess through creative movement and dance techniques on their giant chessboard, prior to the Central West End's Kid's Costume Parade. This program is designed for ages 3-6, but all ages are welcome! Participants are encouraged to wear costumes that allow for a full range of motion and closed-toe shoes. Caregivers will be required to sign a safety and media waiver upon arrival and are expected to remain present throughout the duration of the program.
Attend a Special Halloween Celebrity Storytime | Left Bank Books
Saturday, October 30
10:15 a.m.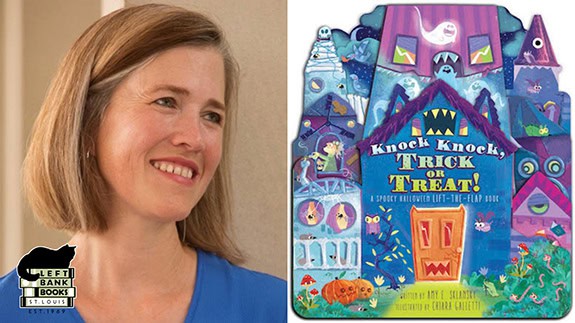 Left Bank Books is excited to present an in-person Celebrity Storytime! St. Louis children's author Amy Sklansky will read aloud and talk about how they made their new picture book, "Knock Knock, Trick or Treat!: A Spooky Halloween Lift-The-Flap Book," and will lead you through a fun Halloween activity at Left Bank Books at 10:15 a.m. on October 30. Join them in-person and order copies of Amy's books from Left Bank Books to support authors and independent bookstores! This event will precede the CWE Halloween Kids' Costume Parade at 11 a.m.
Saturday, October 30
11 a.m.-midnight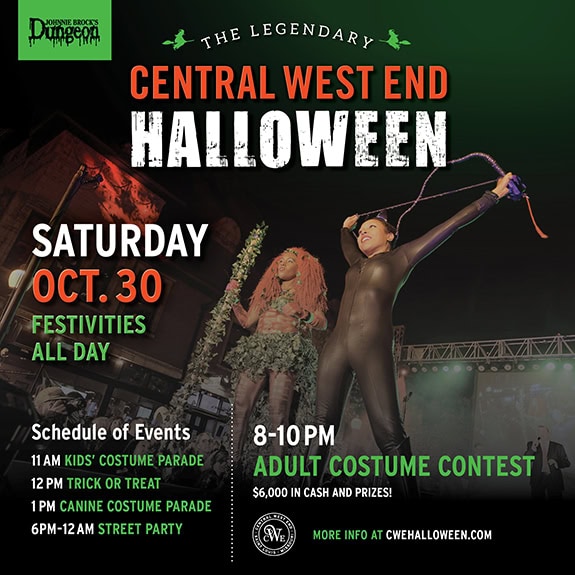 St. Louis' most Legendary Halloween Street Party returns to the Central West End on Saturday, October 30! Festivities kick off with fun daytime activities for the whole family. Then, as the sun sets, the party continues with an adults-only bash and costume contest, known for its elaborate, complex, and outrageous costumes and featuring $6,000 in cash and prizes! The Legendary CWE Halloween Party is FREE and open to the public. For a full schedule of events, click here!
October 31 through November 14
Sundays, 11:30 a.m.-12:30 p.m.
This Halloween, help your pooch learn some new tricks! Wolfgang's Pet Stop is teaming up with PetImpact! for this special "Tricks Class," where your four-legged-friend will learn 20-25 new tricks by the end of the course. Please note, your pooch must have completed their puppy/beginner class to enroll. Limit 5 students per class. For more information, please email petimpact@outlook.com or call 314-226-5609.