From the neighborhood's not-to-miss sale of the year, to a family-friendly Art Stroll along McPherson — here are five things to do this weekend in the Central West End!
"Forget Prayers, Bring Cake" | Left Bank Books
Thursday, August 19
7 p.m.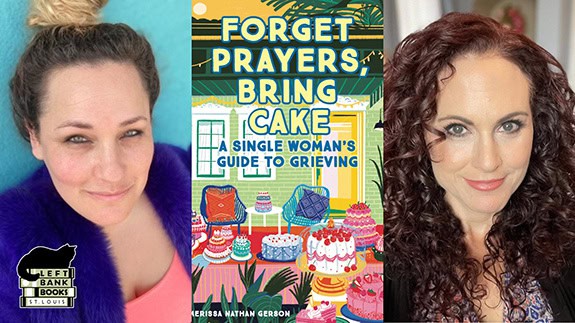 This evening, Left Bank Books welcomes Washington University alum, writer, professor and sex educator Merissa Nathan Gerson, who will discuss her heartrending, relatable account, "Forget Prayers, Bring Cake: A Single Woman's Guide to Grieving," on their Facebook Live Page at 7 p.m. Gerson will be in conversation with St. Louis author of "Famished" Rebecca Lester. 
This heartrending, relatable account of one woman's reckoning with loss is a guide to the world of self-recovery, self-love, and the skills necessary to meeting one's own needs in these times of pain — especially when that pain is suffered alone. A book needed now more than ever, "Forget Prayers, Bring Cake" is for people of all ages and orientations dealing with grief of any sort — professional, personal, romantic, familial, or even the sadness of the modern day. This book provides actions to boost self-care and self-worth; it shows when and how to ask for love and attention, and how to provide it for others. 
All you need to do to participate is log in to your personal Facebook account, go to Left Bank Books' Facebook Live Page, and wait for the livestream to begin on the page (you may need to refresh the page periodically until the stream begins). 
Thursday, August 19
7 p.m.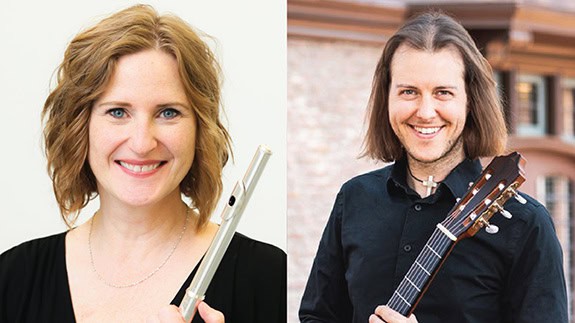 Tonight, enjoy a special performance (from the comfort of your own home!) by the Nitchman Akin Duo as they take you on a world tour featuring classical music for flute and guitar! Jennifer Nitchman has been a member of the St. Louis Symphony since 2003. She performs frequently as a chamber musician with the Chamber Music Society of St. Louis and the Missouri Chamber Music Festival and is active in the community as a teacher. W. Mark Akin is an award-winning classical guitarist who's on faculty at Washington University and hosts the radio program Inside Classical Guitar on Classic107.3.
While the in-person concert at the World Chess Hall of Fame is officially sold out, they will be livestreaming the performance on their Youtube Channel. Click here to tune in online!
Saturday, August 21
10 a.m.-2 p.m.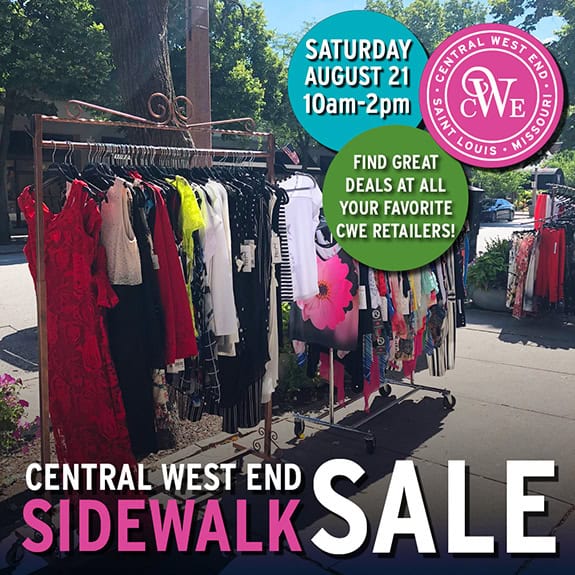 Our Central West End Sidewalk Sale was so popular in July — we're bringing it back for one more day on Saturday, August 21! Support your favorite merchants and score phenomenal deals and discounts during the neighborhood's not-to-miss sale of the year! Special promotions include:
For a full list of participating businesses and offers, click here!
Experience the Neighborhood's Vibrant Arts District | CWE Art Stroll
Saturday, August 21
12-4 p.m.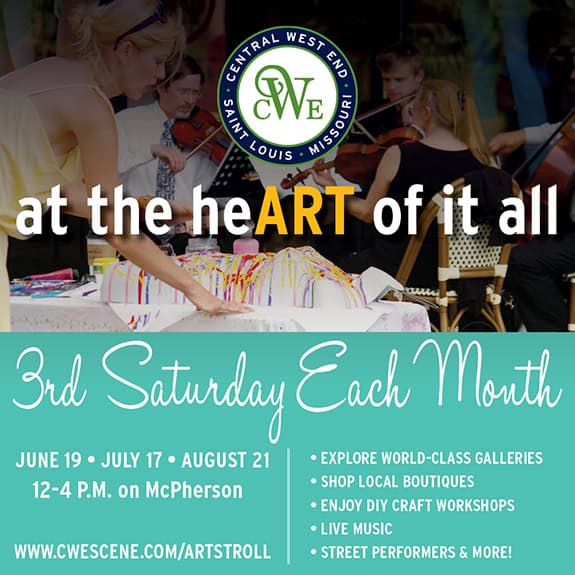 While shopping on McPherson, you can also experience the neighborhood's vibrant arts district during the CWE Art Stroll. From 12-4 p.m., enjoy DIY craft workshops, live music, street performances, artist demonstrations, and more! Explore world-class galleries, including Duane Reed Gallery, Houska Gallery, Philip Slein Gallery, and projects+gallery. Plus, take a stroll down to Maryland to visit the World Chess Hall of Fame, where they have three different exhibitions on display.
You can also join the creative folks at Perennial to make some summery, fun paper crafts! They'll show you how to make your own spinning pinwheels and sweet paper flowers, all from upcycled materials! Tables will be set up along the sidewalk on McPherson. Stop by anytime to start creating (please note: seating is first-come, first-serve). To learn more about the Art Stroll, click here!
All Weekend Long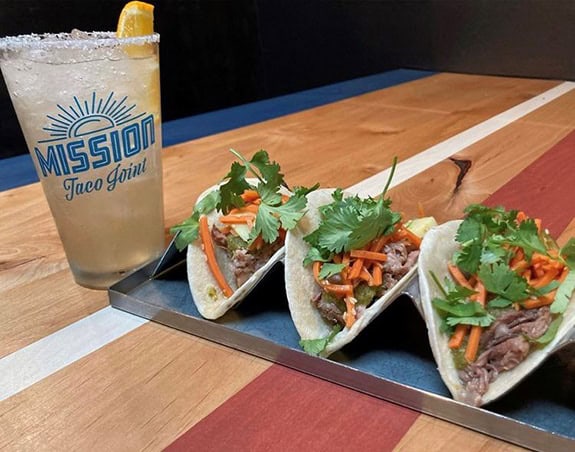 This weekend, treat yourself to a delicious Pho King Taco AND help make a difference! All month long, a portion of proceeds from Mission Taco Joint's August Charity Taco will benefit the International Institute of St. Louis — the primary advocacy and intervention organization assisting in services for incoming Afghan refugees in St. Louis. 
The Pho King Taco features @PhoKingQui's family recipe for Vietnamese five spice pork and is topped with pickled carrots, cucumber, serrano salsa fresca, and cilantro on a flour tortilla. Don't miss your chance to try this limited-edition taco!