The Central West End's adults-only Halloween bash and costume contest is legendary for its elaborate, complex, and outrageous costumes — and this year, we expect it to be better than ever!
We're giving away $6,000 in cash and prizes!
1st Place: $2,500
2nd Place: $1,000
3rd Place: $500
4th-10th Place: $200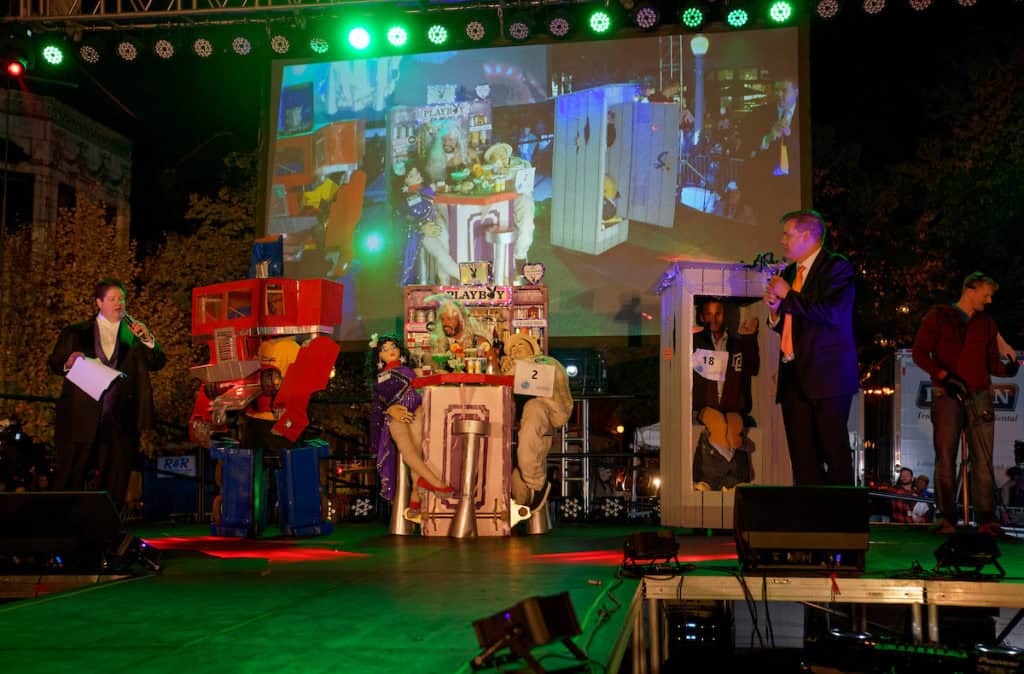 Contest timeline
6 p.m. | Registration opens.
8 p.m. | Costume contest begins on the stage at Maryland & Euclid.
9:30 p.m. | Final judging and announcement of the top 10 costume contest finalists.
10 p.m. | Top three costume contest winners announced and all prizes awarded.
How it works
Registration information
Registration opens at 6 p.m. directly behind the stage located at Maryland & Euclid. Each contestant or group of contestants must complete an entry form and pay all entry fees in full in order to participate. Registration will remain open throughout the contest, or until event producers determine enough entries have been reached.
Entry fees are as follows, and must be paid in CASH:
$25/individual
$50/group (2 or more people in one combined costume or theme)
You must keep your registration form. This is your proof of payment and must be presented for access to stage. IF YOU LOSE YOUR FORM, YOU MUST PAY AGAIN. Each entry is assigned a number at the beginning of the contest. Please keep your number until the final round.    
Immediately following the announcement of the CWE Halloween Adult Costume Contest Winners, prizes will be awarded to the fourth through 10th place winners. The top three contest winners will be asked to complete a W9 form; checks will be sent the week after the event to the name listed on the W9 and mailed to the address provided.
IMPORTANT NOTICE
The organizing committee and judges of the CWE Halloween Adult Costume Contest reserve the right to refuse any entry that they find inappropriate, offensive or not in the traditions of the contest. All decisions of the judges and producers are final.
All costume participants must be at least 18 years old. No one under the age of 18 will be allowed on the stage.
Enter at your own risk! By entering the contest, you release the Central West End NCID, the City, producers, staff, volunteers and sponsors from any and all liability and claims arising from your participation in the contest.
Costume Contest Rules
Contestants will be assigned a number at registration. This is the order in which participants will appear on stage. Lost numbers cannot be replaced or refunded.
All contestants must be present when their number is called. If you miss your turn, you will not be allowed to participate. Additionally, you must be present during the final round to win.
Music will be selected by the Halloween event producers for your group. Please do not bring your own music, CDs or props. No microphone is available during the contest for you to use.
Contestants are not allowed to throw anything from the stage.
Contestants who do not follow the rules will be disqualified. 
Stage Accessibility
Each contestant or group will be called to the stage to show their costume. Contestants are to follow the directions of the emcees and only spend a short time on stage in order to keep things moving.
Contestants will enter and exit the stage via steps at the back of the stage. A ramp will also be available to contestants requiring alternate means of access.
Judging Panel & Criteria
A panel of judges will score each costume. Costumes will be judged based on creativity, originality, delivery and "wow factor."  The CWE is known for its elaborate, over-the-top costumes. We can't wait to see what you all have for us this year. 
Judges' and producers' decisions are final.
Photography
Photos will be taken of all costume contest entries.
By participating in Halloween in the Central West End, all participants release and allow the use of any and all photographs taken by the event producers, their agents and assigns to promote and otherwise market the event hereafter without any rights or compensation to the participants.