From an exclusive giveaway at Bonobos, to Easter Brunch at Edera Italian Eatery — here are five things to do this weekend in the Central West End.
Order Your Easter Meal | Straub's
Order by Thursday, April 1 to guarantee that everything is ready by Easter!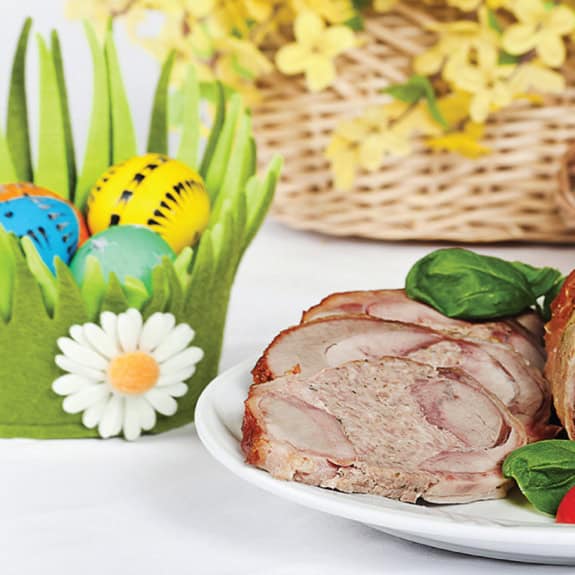 Don't feel like cooking this Easter? Let Straub's do the work! Plan a perfect Easter meal with their chef-prepared entreés, sides, and desserts. Center your table around Leg of Lamb, Beef Brisket, or a Baked and Glazed Ham, and delight your guests with Dauphinoise Potatoes or Brie en Croute. Let them take care of all your traditional favorites, like Grilled Vegetables and Deviled Eggs. And don't forget Miss Hulling's Cake for dessert! Order by Thursday, April 1 to guarantee that everything is ready for your Easter meal. All orders must be placed 72 hours in advance. Click here to place you order!
Explore "Other Disguises" and "KC Trials and Tivoli Dreams" | Houska Gallery
Gallery Hours:
Tues-Sun, 11 a.m.-4 p.m.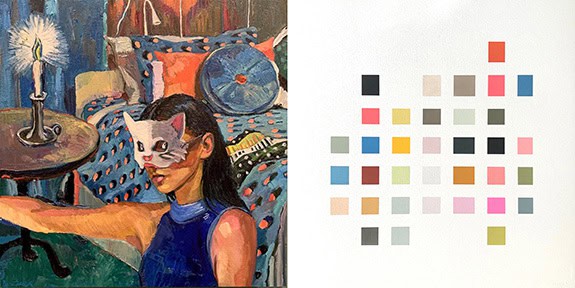 You're invited to Houska Gallery's opening reception for Metra Mitchell's "Other Disguises" and Jenna Bauer's "KC Trials and Tivoli Dreams."
In Metra Mitchell's series entitled "Other Disguises", archetypal characters appear in many disguises within staged theatrical environments. A certain strangeness in their representation reflects the fragmentation and duplication of the ego in a dream. Unpacking this constellation of imagery carries a strong emotional charge, conjuring a complex process of transformations. This metamorphosis involves the human body- a living presence that may take on different shapes and forms. Concealed identities, masks and other disguises reflect a lack of certainty.
As for Jenna Bauer, last winter she boiled her color pallet into grids while living in Kansas City: her KC Trials. The goal with these paintings includes color theory research, storytelling and creating the essence of landscape within the canon of Grid Painting. Tivoli Dreams refers to a landscape that is out of reach — one we can only dream of: part homage to the Hudson River School crossed with the artist's intent for exploring color theory, mark-making, process and presentation.
The reception will be closely monitored to maintain social distancing guidelines. Makes are required. A virtual tour of both exhibits will also be available on their website shortly after the opening.
Master Your Fit | Bonobos
Store Hours:
Mon-Sat, 11 a.m.-6 p.m.
(closed Easter Sunday)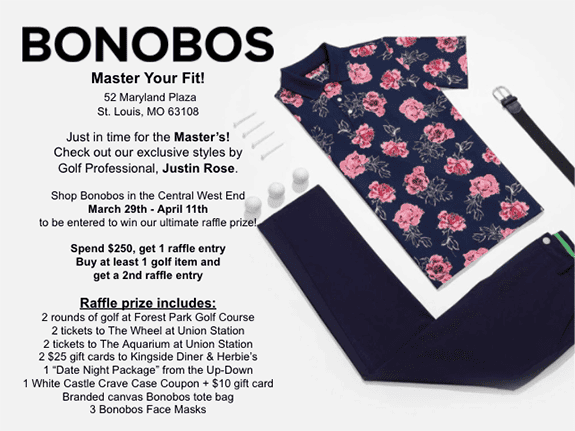 Master your fit at Bonobos *and* be entered to win an exclusive raffle prize (valued at $400)! Stop by the shop and check out their exclusive styles by Golf Professional, Justin Rose (just in time for the Master's). From now until April 11, when you spend $250 at Bonobos in the CWE, you'll receive one raffle entry. If you purchase at least one golf item, you'll receive a second raffle entry. One winner will be randomly selected (by Bonobos CWE) and notified on April 12. Happy shopping!
Sunday, April 4
11 a.m.-2 p.m.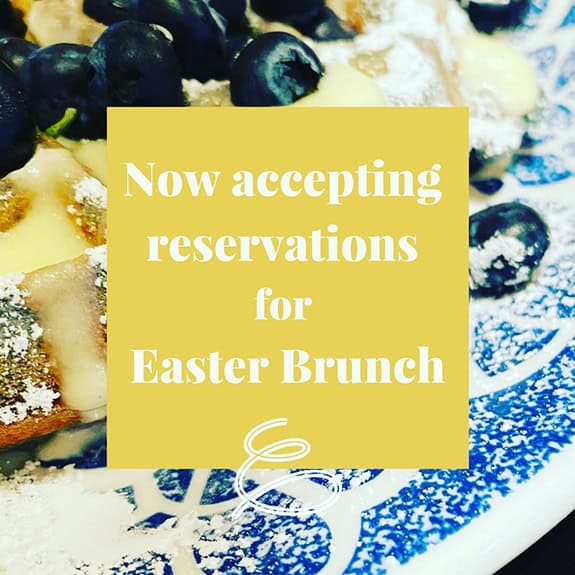 Still making plans for Easter? Gather the family for a decadent brunch at Edera Italian Eatery. From pancetta hash to blueberry waffles, you can choose between savory or sweet! Indoor dining and courtyard seating is available. To make reservations, please call 314-361-7227 or click here.
Dine For Your Chance To Win a Season Long Pool Pass | The Chase Club
All Weekend Long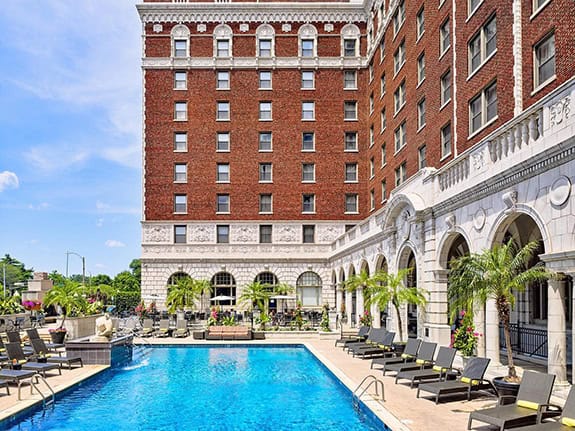 It's not too early to start thinking about summer! There's still a chance to win a Chase Park Plaza Pool Pass for the summer season. Simply dine at Chase Club now through April 25 and fill out an entry form during your visit. Four winners will be announced on April 26. (One entry per visit to Chase Club, with purchase). For more information, click here.