Love is in the air in the Central West End! Neighborhood restaurants are offering terrific options for dining out (or in!) this Valentine's Day.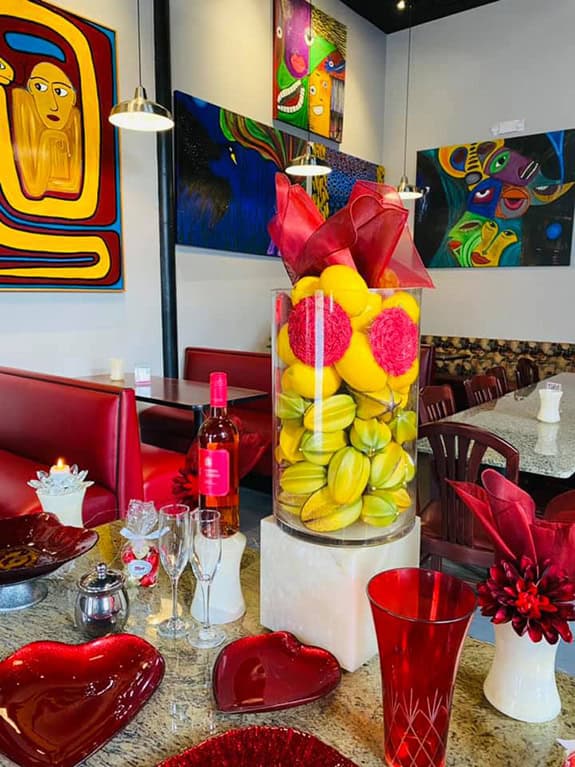 Celebrate love and enjoy authentic Peruvian cuisine at Cocina Latina! Limited seating is available Friday, Feb. 12 and Saturday, Feb. 13. Marques de caceres Verdejo and Rosè will be available! Book your table now by calling 314-221-8851.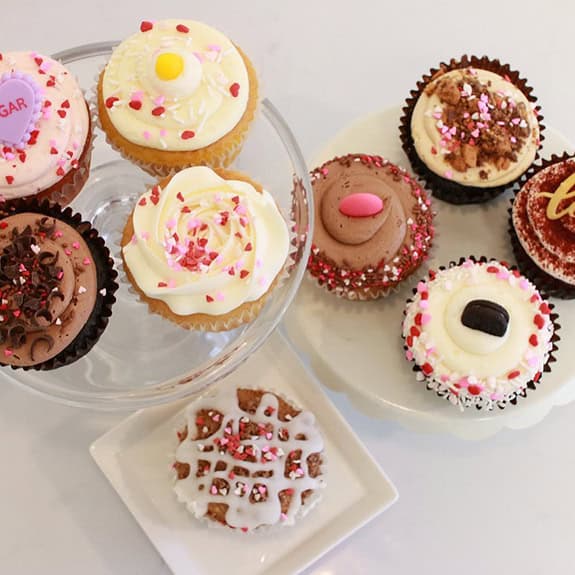 No matter what you do on Valentine's Day, be sure to save room for dessert! Satisfy your sweetheart's sweet tooth with a tasty treat from The Cup. This year, their Valentine's decor automatically includes a lovely buttercream rosette on their Confetti cupcake. Valentine's decor begins February 3, giving you plenty of time to customize your sweet treats for that special someone. Place your order online or give them a call at 314-367-6111.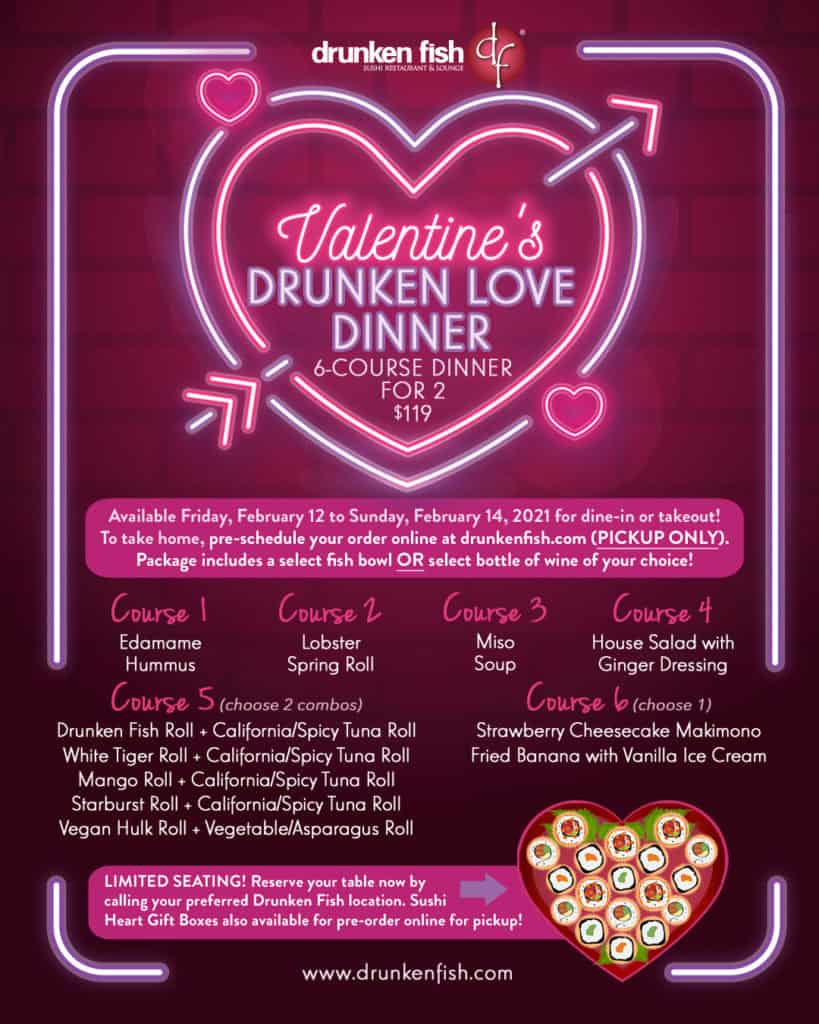 We think Beyonce would love the idea of being "Drunk in Love" while enjoying this special "Drunken Love" 6-course Valentine's Day dinner at Drunken Fish! Available Friday, Feb. 12 through Sunday, Feb. 14 for both dine-in or take out. This special dinner also includes a select cocktail or bottle of wine! For takeout orders, orders must be placed online at drunkenfish.com for pickup prior to Friday, Feb. 12. Reservations are highly recommended by calling the restaurant at 314-367-4222.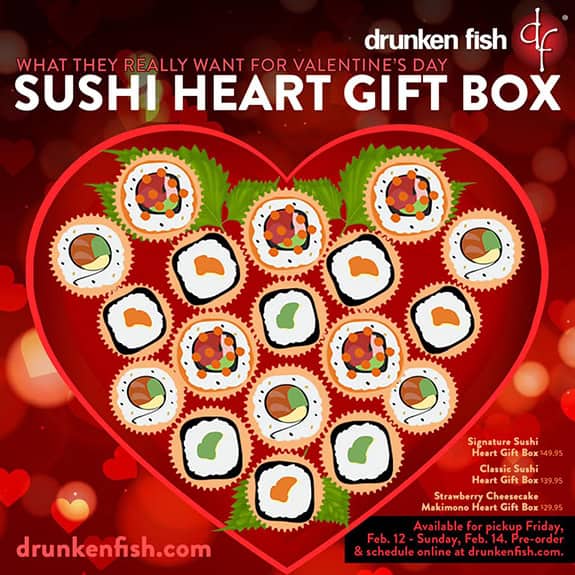 Give your "soy-mate" the gift they really want this year! These Sushi Heart Gift Boxes from Drunken Fish make the perfect Valentine's Day present for any sushi lover! Place your orders online at drunkenfish.com. Available for PICKUP only at your favorite Drunken Fish location Feb. 12-14. Limited quantities so place your order before Feb. 12!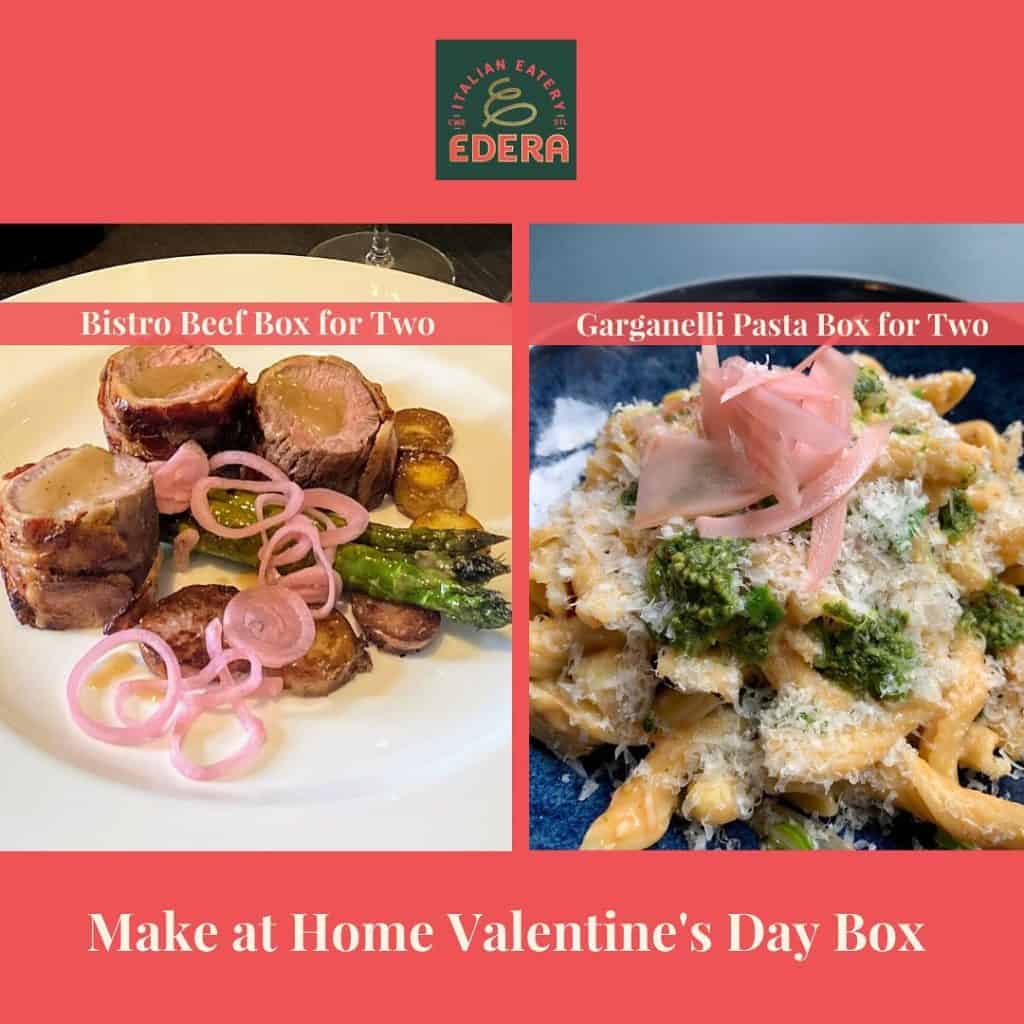 Looking to celebrate Valentine's Day at home, but not quite sure what to cook? Edera Italian Eatery has you covered! You can now order a "Be My Quarantine Box", which has everything you need for a romantic dinner at home. Your box will include dinner for two, four chocolate covered strawberries, a split of Prosecco, a bottle of wine paired by their Sommelier, and a Little Lemon Candle to set the mood.
Bistro Steak Box: $125
Garganelli Pasta Box: $95
Detailed instructions on how to prepare your meal will be included, as well as a link to a video of Chef Andrew preparing your dish so you can follow along. It's the perfect socially distanced Valentine's Day activity for you and your loved one!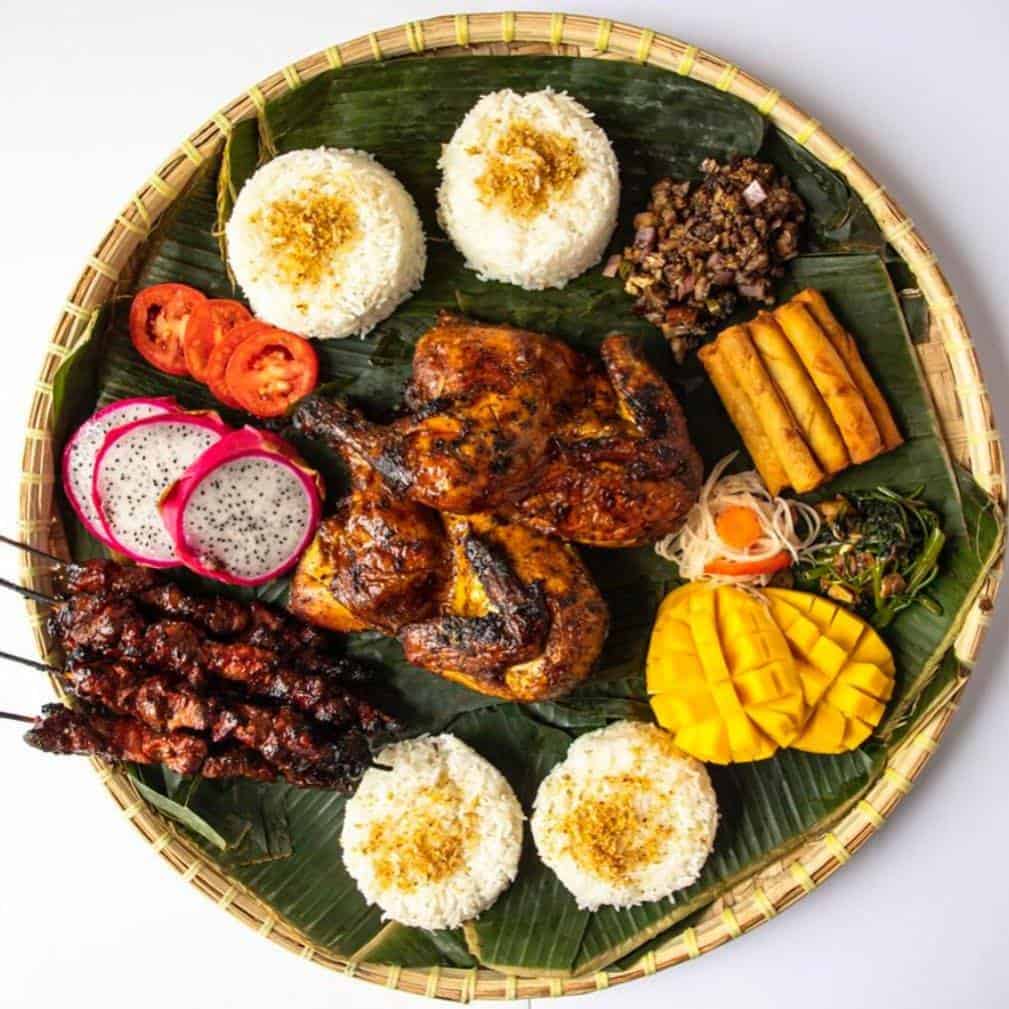 Evangeline's is proud to present Diko's Kitchen Filipino Pop-up Series, featuring The Fattened Caf. Food is the love language of Filipinos, so what better way to spend Valentine's Day than with a Filipino Kamayan Feast experience!
The menu will consist of authentic Filipino dishes including: Lechon Belly, Smoked Brisket Kare Kare, Spicy Longganisa Lumpia, Binagoongan na Gulay (veggies slow cooked in shrimp paste) Sinagang (sour tamarind soup), Jasmine Rice, Pancit, Pickled Salad, and Fresh Fruit. Filipino themed cocktails and drinks will also be available for purchase!
Cost is $35 per person. Reservations are limited with a minimum of 2 and maximum of 4 guests per table. Please call 636-498-4240 to purchase your tickets!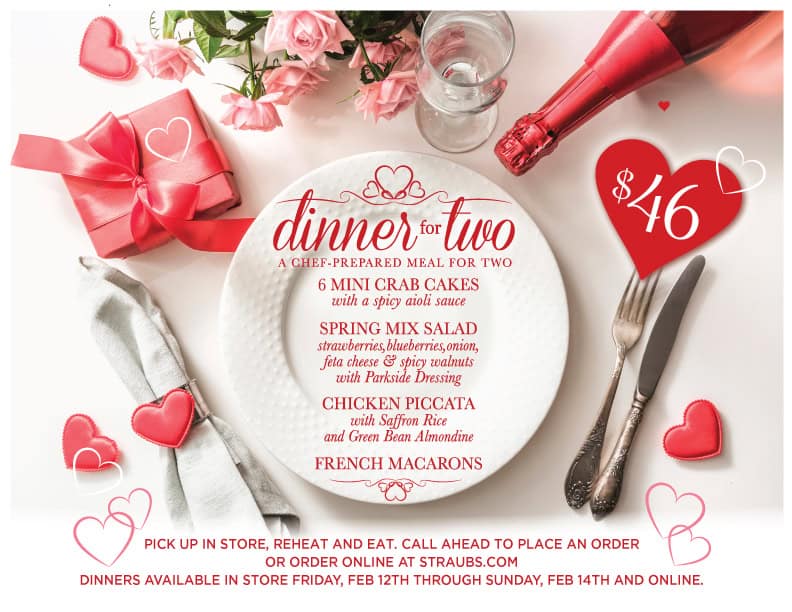 Skip the wait on Valentine's Day with a delicious, chef-prepared dinner for two from Straub's. Have a candlelit dinner at home, or take it to your favorite romantic spot! Start your dinner with crab cakes and a spring mix salad, followed with a main course of Chicken Piccata with saffron rice and green bean almondine. For dessert, enjoy 6 French macarons. Valentine's Day dinners are available in store Friday, Feb. 12 through Sunday, Feb. 14. You can also place your order online.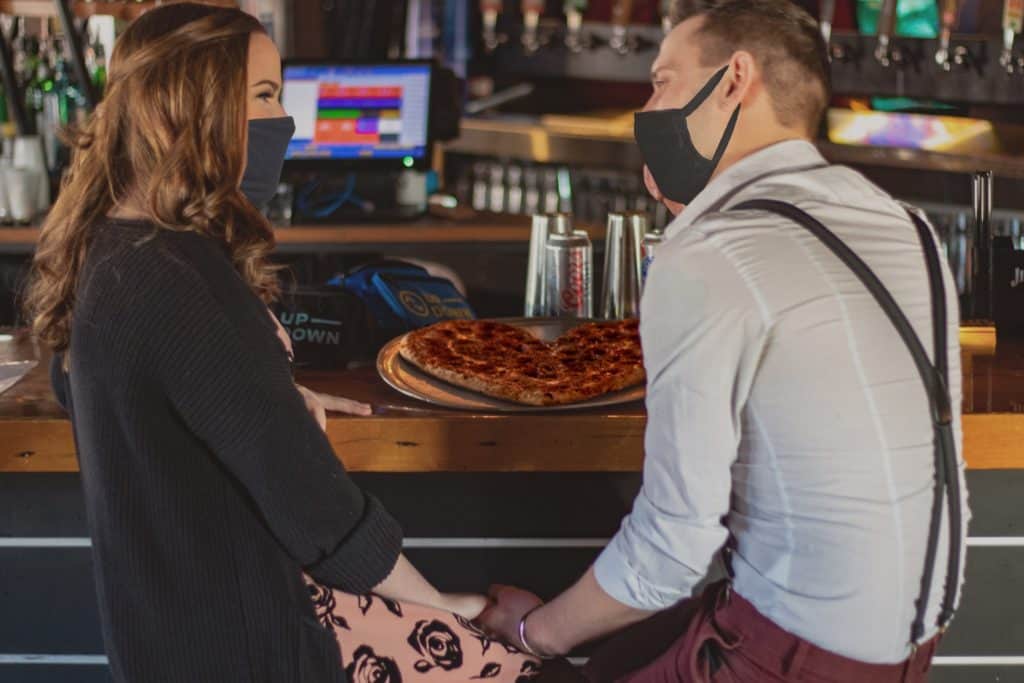 Up-Down STL is giving you lots to love with their Valentine's special: 6 domestic tallboys, 80 tokens, an Up-Down fanny pack, and a heart shaped pizza until 10 p.m. for just $40!
If domestic beer isn't your thing, they're also offering 6 of their premium cans including White Claw and Truly, along with 80 tokens, an Up-Down fanny pack, and a heart shaped pizza for $45!
You can preorder this special any time before Valentine's Day at the bar, and you'll receive a certificate to redeem it any time on the 14th until 10 p.m., plus you'll get an exclusive Up-Down greeting card!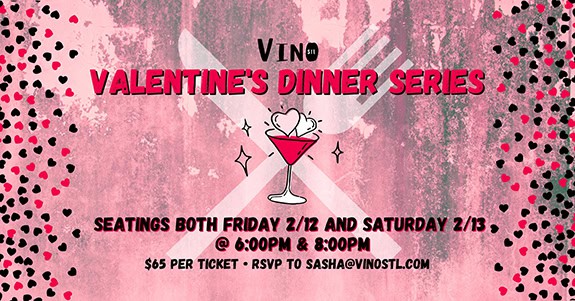 Join The Vino Gallery for a Valentine's weekend dinner series with chefs Sharon Asher-Harter and Sasha Alms. Each $65 ticket includes a complimentary glass of bubbles and a rose, as well as a 4-course dinner. Seatings are at 6 p.m. and 8 p.m. on Friday, Feb. 12 and Saturday, Feb. 13. Seating is limited to 20 guests per dinner. RSVP Today by calling/texting Sasha at 949-903-4104 or emailing Sasha@vinostl.com.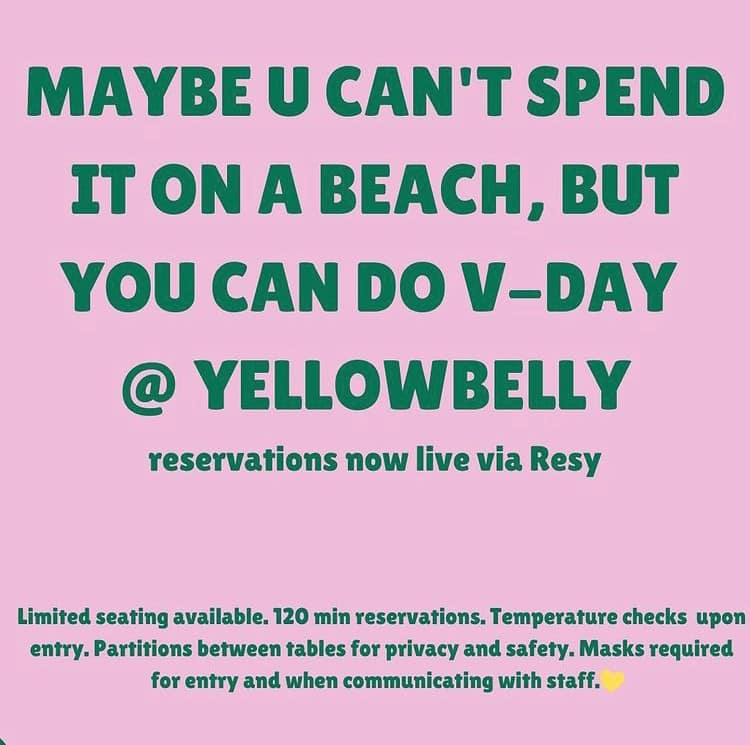 Good news — your favorite island-inspired restaurant is open for Valentine's Day! Book your reservation now and you might just feel like you're on the beach come Feb. 14. They'll be celebrating the holiday with a special surf and turf 3-course dinner for both carryout and dine-in service. The standard Yellowbelly dinner menu will also be available. Reservations for 120-minute time slots are available on Sunday, February 14 from 5 to 10 p.m.