Small Business Saturday is November 28 and this year, more than ever, it is important that we support small businesses in our community.
Shopping in the Central West End provides jobs for local people and when you spend money at local businesses, you're helping to boost the community by stimulating the local economy. It's a perfect chance to support your city and help the CWE thrive, while also finding great gifts for your friends and family.
We recently caught up with Left Bank Books Co-Owner, Kris Kleindienst, to learn how your support can help make all the difference for their small business this holiday season.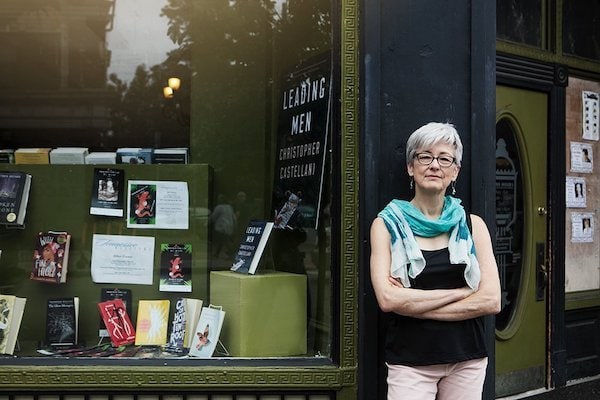 How has your business been affected by COVID-19?
Kris Kleindienst: Overnight, our business shifted from walk in traffic and author events to online shoppers. While we are immensely grateful for any business, processing online orders is expensive in the extra time and materials. A simple over the counter transaction could now take 20-30 minutes and 4-5 booksellers in a chain of on and offline work. Some of us work from home to minimize crowding in the store. Technology costs went up. Communication became more difficult. In August, we had to quarantine the entire staff for 2 weeks although thankfully, no one got ill.  And in spite of our best efforts, business declined alarmingly. In October, we put out an appeal for support. While the response has been overwhelmingly positive, it is only with a sustained level of required business that we can continue to serve our community.
How can people support you and your small business this holiday season?
Kris Kleindienst: The easiest thing to do is buy books, calendars, cards and other gifts from us. Our ecommerce website is easy to use. We are responsive and you will always be dealing with a human bookseller who lives in your community. Buy books. Make a wish list on our website and share it with friends and family. Ask your workplace to order its holiday gifts and professional development books from us. We have great lists, including our online Holiday Catalog. We are now open for limited times by appointment. Check out the appointment app on our homepage and come in and browse safely.
Why do you think it's so important for people to shop small in our community?
Kris Kleindienst: Local small businesses employ a majority of our nation's workers. Local businesses reinvest your dollars in the community and contribute to the tax base that supports first responders, the arts, and critical infrastructure. When you shop local, you invest in the kind of community you want to see when we emerge from the pandemic.
Why is being a small business owner important to you?
Kris Kleindienst: I absolutely love being able to serve our community with books that speak to its diverse and ever evolving needs. From a grandparent's gift of baby books to the newest addition to the family, to books that give a deeper understanding of current events, or literature that inspires, comforts, or challenges, it is an absolute privilege to operate a space that is opening and welcoming to ALL of our beautiful, diverse city. 
#ShopCWESmall this holiday season and support local businesses like Left Bank Books. Click here to shop their 2020 Holiday Catalog.