It's time to revisit and rediscover — the Central West End beckons. Do you want to shop 'til you drop? Or maybe you want to relax? Perhaps family fun is more your style? Or a little bit of everything? From world-class art exhibitions to award-winning restaurants, the Central West End is a place that inspires, revitalizes, and reignites your sense of wonder.
Welcome home to the Central West End: at the heart of it all.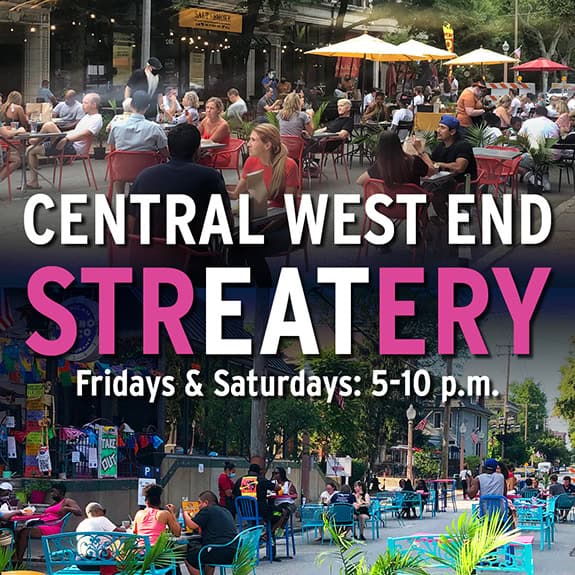 The Central West End Streatery is returning to Euclid Avenue this summer! Some of your favorite CWE restaurants and bars are expanding their patios into the street to increase operations and provide a safe, socially distanced summer dining experience.
Starting Friday, May 7, these 'streateries' will be open along Euclid Avenue on Fridays and Saturdays from 5-10 p.m. All operations will be carried out in alignment with guidance from the City's public health officials. Social distancing guidelines will be in place and masks are required at all times when social distancing is not possible. There will also be additional hand sanitizing stations at the ends of each dining section for patrons.
Businesses participating in the CWE Streatery include:
The Central West End Streatery will run through the end of October, weather permitting. For more information about the Central West End Streatery, click here!
re(DISCOVER) Your Favorite CWE Restaurants & Retailers with the Central West End Passport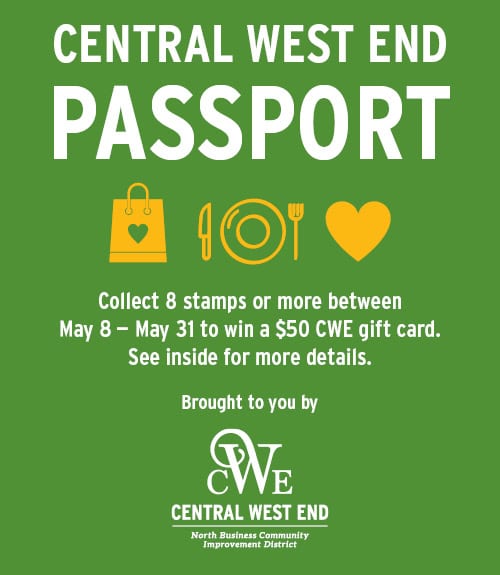 Rediscover your favorite Central West End businesses and take advantage of special deals and discounts with our limited-edition CWE Passport! The CWE Passport is a pocket-sized booklet filled with deals, discounts, and special offers at more than a dozen participating CWE businesses.
With the CWE Passport, you can create your own shopping and dining adventures, support the local businesses you love, and discover new favorites along the way. Adding to the fun: Passport holders who collect 8 stamps or more will be eligible to win a $50 CWE gift card!
Passport offers can be redeemed anytime from May 8, 2021 through May 31, 2021. This allows for flexible shopping and dining over a period of three weeks (giving you plenty of time to collect those stamps). To learn more about the CWE Passport, click here!
re(DISCOVER) Your Favorite CWE Retailers & Score a FREE Tote Bag (with Purchase)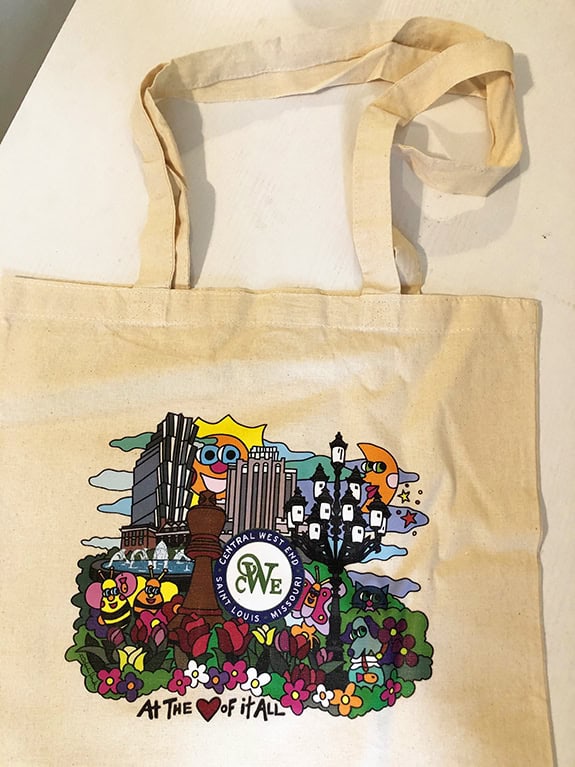 Starting Saturday, May 8 — shop local and get rewarded with a FREE Central West End tote bag (while supplies last)! The Central West End Business Community Improvement District partnered with local gallery owner and artist, Charlie Houska, to create these one-of-a-kind CWE totes. From the Maryland Plaza Fountain to our iconic griffin lamps, this bag will help you show off your love for the CWE all summer long!
Simply visit a NCID retailer or gallery and receive a FREE bag with any purchase (while supplies last; once the bags are gone, they're gone)!
---
Thank you for supporting our commercial district! Visit our directory for all business listings. As you return to the Central West End, please do your part by always wearing a mask (unless you're eating or drinking!), and doing your best to social distance.